Dr. Robert Quinn, CEO of Dignity Health Medical Foundation, is no stranger to the organization. While he recently became CEO, Dr. Quinn brings more than 25 years of physician and medical leadership experience in our system to the role.

In between guiding the organization through a global pandemic, and finding a few solitary moments to catch a wave or two, our Communications Team recently caught up with Dr. Quinn. We hope you enjoy the following excerpt of our conversation with Dr. Quinn about his journey to becoming CEO, what guides his priorities, and how COVID has transformed how we think about the future of health care.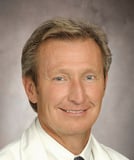 A Conversation With Dr. Quinn

Can you share how you first became involved with Dignity Health Medical Foundation?

Dr. Robert Quinn: I actually came to the United States from Toronto, Canada in 1995 to work with Dominican Hospital in Santa Cruz under a two-year commitment with the inpatient acute rehabilitation unit. My wife was embarking on a fellowship with Stanford University Medical Center at the same time, and we were excited to have the opportunity to gain experience and understanding of the U.S. healthcare system. After our initial commitments were complete, we thought we'd return to Canada to continue our careers. We didn't. We ended up staying because we enjoyed our work, and communities we had become a part of.

At this point in my career, I was dedicated to bringing stroke and spinal cord services to the broader communities served by Dominican Hospital. One year into my role with the rehabilitation unit, I became medical director. Over the following years, I continued to serve as a physician and extended my leadership to different boards and committees within the Dignity Health organization and also community health organizations. One of the main reasons our family chose to stay in the area is Dignity Health's strong organizational commitment to the community, ensuring access to quality health care services to all.

In addition to being a practicing physician, you have donated many advisory hours to the boards and committees you serve on. I'm curious what inspired you to pursue the role of CEO?

Dr. Robert Quinn: Through my many years of experience with Dignity Health — first at the hospital level, then clinical level and as President of the Santa Cruz Medical Group — I've always sought after roles that would allow me to collaborate and build bridges between our systems and the communities we serve. The goal has always been to provide exceptional health care services to our communities.

At each level, I've had a positive impression of the organization's commitment to serve the community, anchored by how it lives out its mission through its people, stewardship and actions.

When the CEO role became available, I was interested because I wanted to build upon the work of my predecessor by continuing to take an innovative approach to problem solving and expanding best practices, with the goal of increasing access to quality health care throughout the state.

What is top-of-mind for you as you embark on your journey as CEO?

Dr. Robert Quinn: Right now, the incredible pressure of COVID-19 is beginning to normalize, giving us bandwidth to accept other related health care challenges. This allows me to expand my focus areas.

Overarchingly, my focus is on fulfilling our organizational mission — improving the health of the people we serve, especially those who are vulnerable, while we advance social justice for all. And the second part of that statement is where my focus on fair play and collaboration come in. We have the opportunity to leverage our exceptional team and work toward standardizing care across the state. I'm committed to accessible care for patients when and where they need it.

Can you share with us how you hope Dignity Health Medical Foundation will help to shape this approach to patient care?

Dr. Robert Quinn: As we regain our balance and move forward from the challenging year that was 2020, we take with us key learnings that brought to light aspects of the existing paradigm of healthcare that need to change. We learned we can, and should, do better.

For example, when we think about access to quality care, we've learned through our response to COVID-19 that virtual care can bridge access gaps. I'm proud of how our system has adapted to — and helped our community understand the value of — virtual care. Face-to-face visits may not always be the best way to serve patients due to geography, after hours needs, even patient comfort level with physicians or hospitals. We've overcome many perceptions around virtual care and I believe our work in this area will be an important stepping stone for continuing to increase access to care in the future.

Our success with virtual care has shown that we can shift perceptions of what healthcare can be while continuing to provide excellent care for the communities we serve. To do this, our north stars for amplifying the care experience across socioeconomic lines, independent of demographics and geography, will be:
Quality of care
Excellence of care
Access to care
Value of care

What unique skill set or experience do you bring to the new role as CEO?

Dr. Robert Quinn: My role as a rehabilitation physician emphasized that you're only as good as the team you assemble. To give our rehab patients the best possible outcome, we needed to pull the best out of each member of the team. This approach to collaboration has served me well as a physician and on the medical leadership side of my career. Now, as I look to build bridges of collaboration between medical leadership, patients and affiliated stakeholders, no matter what we're tackling as an organization, keeping the human person at the center of all decisions is crucial for us to continue to deliver excellence in care.


Dr. Quinn has more than 25 years of progressive leadership experience in health care. He previously served as President of Santa Cruz Medical Group, a multi-specialty medical group serving Santa Cruz County in alignment with Dignity Health Medical Foundation. Dr. Quinn received his bachelor's degree from Princeton University, his medical degree from McGill University, and completed his residency in Physical Medicine and Rehabilitation at University of Toronto. Learn more about the Dignity Health Medical Foundation Executive Team here.