Dignity Health Medical Network – Santa Cruz and Dignity Health Mercy Medical Group were two of just a few physician organizations in California to receive the 2021 Excellence in Healthcare Award, California's top honor for provider organizations, from the Integrated Healthcare Association (IHA) for its top performance in clinical quality, patient experience and cost measures.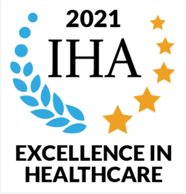 A key component of IHA's statewide "Align. Measure. Perform. (AMP)" program, the Excellence in Healthcare Award recognizes provider organizations that perform in the top 50 percent in all three major AMP areas: clinical quality, patient experience, and total cost of care.
"Congratulations to the entire Dignity Health Medical Network – Santa Cruz team for earning this great distinction," said Steven Magee, MD, President of Santa Cruz Medical Group. "This award reflects our commitment to deliver high quality coordinated care in a way that improves the health of our patients and also reduces the total cost of care for those we serve."
For measurement, only 21 of nearly 200 physician organizations statewide participating in the AMP program, attained Excellence in Healthcare Award performance standards for 2021, based on AMP results for measurement year 2020. The award was presented on Nov. 3 at IHA's Annual Stakeholder Meeting.
"We are honored to receive this prestigious award for our continuous work to provide exceptional, affordable health care experiences for our patients in California," said Alan Shatzel, DO, MBA, CEO of Mercy Medical Group.
The Excellence in Healthcare Award is a key component of IHA's statewide AMP program, which uses a fair and transparent approach to measurement, and focuses on creating comprehensive benchmarks and a reliable assessment of performance for medical groups, independent practice association, and accountable care organizations across health plans in California.
IHA President and CEO Jeff Rideout, M.D. commended the top performers, saying, "IHA is proud to recognize provider organizations that are truly leading the way to high-quality, affordable, patient-centered care."

To learn more about AMP and the IHA, please click here.