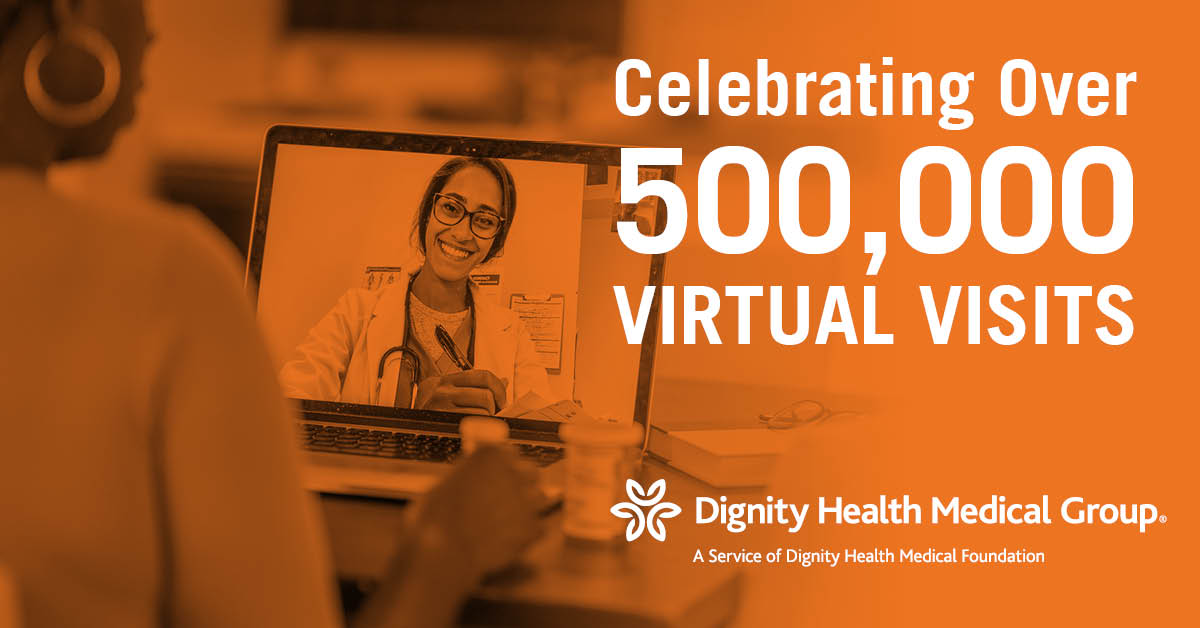 Since the beginning of the COVID-19 pandemic, Dignity Health Medical Groups throughout California have provided over 500,000 virtual visits to patients. It has been exactly one year since our teams took action to rapidly scale virtual care capabilities to continue to safely see patients, meet demand for care, and reduce the transmission of the virus.
"Our team has done amazing work to make this milestone happen," said Bita Farhadpour, MBA, virtual care administrative lead. "We are proud of this accomplishment and how our teams have risen to the challenge."
Virtual visits are playing an increasingly important role in health care. A virtual visit is similar to a regular doctor's visit, except that patients can connect with a doctor from the convenience of their own home or any private area with internet or wireless connection.
"This milestone reflects how patients have embraced virtual visits as a safe and convenient option," said Dr. Christine Braid, medical director of virtual care for Dignity Health Medical Groups. "Virtual care will continue to be an important part of providing exceptional care to our patients."

Helping Make Care More Accessible
Dignity Health Medical Groups serve demographically and geographically diverse areas across the state. Being able to provide patients affordable, accessible care wherever they are, even from the convenience of their own homes, remains one of the most important benefits of virtual visits.
While our clinics remain open and safe for in-person visits, many people find that they enjoy the convenience that virtual visits provide. Virtual visits can be helpful for patients who are homebound or have difficulty with transportation. Some groups who have especially enjoyed the safety and convenience virtual visits provide include:
Patients living in rural areas. Since launching virtual visits, 33% of appointments where the patient lived more than 30 miles from a clinic, were virtual, resulting in a 5% increase of overall visits for this group.
Patients 65 and older. For patients in this age group, 25% of appointments were conducted virtually and remain an important service.
Behavioral Health patients. Dignity Health Medical Group Behavioral Health patients especially, have shown a great interest in video visits, with over 85% of appointments being conducted virtually since the beginning of the pandemic.
"Virtual visits allow for outreach of my expertise to a broader area for patients that may not have means to come see me as often in the office," said Munir Janmohamed. MD, a cardiologist with Dignity Health Mercy Medical Group. "It also allows me to keep a closer eye on patients as well as optimize medical management."

What happens during a virtual visit?
Virtual visits bring health care to you, where you are. During a virtual visit, doctors will be able to provide a treatment plan, just as they would for an in-person visit. Physicians can then prescribe medication and request follow-up care.
Virtual visits use live, secure, video technology to allow patients to directly see and speak with their physician through the convenience of their mobile device, tablet or computer. Virtual visits are never recorded, and use encrypted software to ensure your meeting is private and secure.
Ask your primary or specialty care office about any tools (such as a thermometer) you might need for your appointment. It is also helpful to make a list of medications you are taking before your appointment. You can even have your prescription bottles with you during the appointment in case you need additional information, like dosage, for example.
Learn more about what to expect from virtual visits, and how to prepare here.

What conditions are appropriate for virtual visits?
Many non-urgent health conditions and concerns can be treated with a virtual visit. Research shows that virtual visits are a safe and effective option for health care. For example, if you have heart problems, know that there is strong evidence that people with heart disease who use a combination of virtual care services and in-person visits, have a better chance of staying out of the hospital than patients who only receive traditional, in-person care.
Your recommended annual wellness visit follow-up is another great example of a visit that can be conducted virtually. As long as it is not your first visit with your doctor, a follow-up wellness visit is a great opportunity for a virtual visit. Because annual wellness visits are based on your personal health risks and health history, an in-person visit usually isn't necessary.
Learn more about health care visits that are good candidates for virtual visits here.
"To know that they have very easy access to me and can have a "face to face" conversation with me is comforting," said Jenifer Steen, MD, an OB/GYN with Dignity Health Medical Group — Ventura. "Sometimes, I prefer the video visits because neither of us are wearing masks so I can read facial expressions better."
How to Get Started
Our office staff are available to answer any questions you may have, and are eager to help. If you have questions about whether your next appointment can be virtual, please contact your doctor to discuss the options that are available to you, if virtual visits are determined to be a good fit, your local doctor's office can help you schedule an appointment.
Find more stories and helpful information on virtual visits here.