We are proud to announce that 56 physicians from Dignity Health Mercy Medical Group, and 26 from Dignity Health Woodland Clinic have been voted Sacramento Magazine's Top Doctors in 2022. The "Top Docs" honor is an annual list of the area's best doctors as voted by their peers.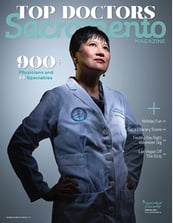 Congratulations to the following Dignity Health Mercy Medical Group and Dignity Health Woodland Clinic Top Docs for 2022! See the full issue here.

Now more than ever, your health is incredibly important. This honor denotes Dignity Health's commitment to exceptional patient care. Whether it is in-person or virtually, care teams are ready to see you.


Mercy Medical Group
Sanaz Abderrahmane, MD, Infectious Disease
Murali Adusumalli, MD, Hospital Medicine
Roksana Ali, MD, Family Medicine
Adeela Ansari, MD, Endocrinology, Diabetes & Metabolism
Shaunye Belcher, MD, Family Medicine
Parimal Bharucha, MD, Critical Care Medicine, Pulmonary Disease
Rohit Bhaskar, MD, Cardiology
Shivani Bhutani, MD, Geriatric Medicine
Carrie Black, MD, Plastic & Reconstructive Surgery
Benjamin Bluth, MD, Hand Surgery
Elyn Bowers, MD, Dermatology
William Bragg, MD, Orthopedic Surgery
Zachary Brewer, MD, Cardiac/Thorasic Surgery
Renee DeBose, MD, Gastroenterology
Michael Dengel, MD, Neurology
Darshan Dhingani, MD, Critical Care Medicine & Pulmonary Disease
Priyal Dholakiya, MD, Gynecologic Oncology
Costanzo DiPerna, MD, Thoracic Surgery
Robert Dias, MD, Sleep Medicine
Kevin Elliott, MD, Gynecologic Oncology
Howard Fan, MD, Neurology
Wiley Fowler, MD, Gynecologic Oncology
Yong He, MD, Dermatology
S. Rubina Inamdar, MD, Allergy & Immunology
Joelle Jakobsen, MD, Breast Surgery & General Surgery
Ashkan Javaheri, MD, Geriatric Medicine
Rajeswari Jayaraman, MD, Hospital Medicine
Mary Ann Johnson, MD, Dermatology
Mohammad Kabbesh, MD, Infectious Disease
Rana Khan, MD, Gastroenterology
Jesse Kramer, MD, Dermatology
Binita Mandal, MD, Allergy & Immunology
Palaniappan Manickam, MD, Gastroenterology
Jasminder Momi, MD, Nephrology
Allen Morris, MD, Cardiac/Thoracic Surgery
Deanne Nyland, MD, Ear Nose & Throat
Christopher Olson, MD, Family Medicine
Jennifer Overbey, MD, Obstetrics & Gynecology
Ushir Patel, MD, Nephrology
Roopinder Poonia, MD, Nephrology
Ajay Ranade, MD, General Surgery
J. Bianca Robers, MD, Family Medicine
Sameera Sandhu, MD, Hospice & Palliative Medicine
Debby Sentana, MD, Hospital Medicine
Gurvinder Shaheed, MD, Hematology & Oncology
Kapil Sharma, MD, Cardiac Surgery
Samer Shihabi, MD, Hematology & Oncology
Shoab Siddique, MD, Ear Nose & Throat
Karanjit Singh, MD, Cardiology
Peter Skaff, MD, Neurology
Jason Spears, DO, Hospital Medicine
Christian Swanson, MD, Breast Surgery & General Surgery
Jane Tsai, MD, Internal Medicine
Trevor Williams, MD, Thoracic Surgery
Jeffrey Yee, MD, Hospice & Palliative Medicine
Jojet Zara, MD, Family Medicine
Shuhao Zhang, MD, Plastic & Reconstructive Surgery
Robert Zimmerman, MD, Infectious Disease


Dignity Health Woodland Clinic
Natasha Bir, MD, General Surgery
Wanda Blaylark, MD, Occupational Medicine
Carmine Cammarosano, MD, Ophthalmology
Christie Carroll, MD, Dermatology
Craighton Chin, MD, Ear Nose & Throat
Angelina Crans Yoon, MD, Allergy & Immunology
Shazia Faiz, MD, Endocrinology, Diabetes & Metabolism
John Forsyth, MD, Occupational Medicine
Halima Karim, MD, Neurology
Diana Lau, MD, Rheumatology
Joyce Loeffler, MD, Urology
Thomas Magrino, MD, Colon & Rectal Surgery
Rajan Merchant, MD, Allergy & Immunology
Dennis Meredith, MD, Orthopedic Surgery
Kene Ofili, DPM, Podiatry
Daniel Parker, MD, Sports Medicine
Sonia Reichert, MD, Hematology & Oncology
Seth Robinson, MD, Critical Care Medicine & Pulmonary Disease
Sudershan Singh, MD, Infectious Disease
Michael Starkweather, DPM, Podiatry
Kevin Stokke, MD, Cardiology
Hoang Tran, MD, Hand Surgery
Jason Umphress, MD, Gastroenterology
Karen Win-Vroom, MD, General Surgery
Amira Zaid, MD, Obstetrics & Gynecology
Matthew Zavod, MD, Ear Nose & Throat