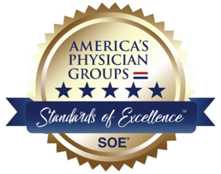 Mercy Medical Group has been awarded Elite Status from America's Physician Groups (APG), the nation's leading professional association for accountable physician groups. Mercy Medical Group is one of just 80 organizations nationally to achieve Elite Status (the highest recognition) in 2020.

Elite Status is earned through participation in APG's Standards of Excellence Survey, which analyzes physician groups' performances in improving patient experience, clinical care and affordability of care.

"This recognition is directly attributed to the hard work and dedication of our talented teams, who provide high quality, affordable care even through what has been such an unprecedented year, in not only the healthcare industry, but the world," said Dr. Rob Quinn, CEO of Dignity Health Medical Foundation. "We're honored to receive this recognition and it validates that we're delivering high-quality, patient-centered,coordinated care when and where it matters most."

APG's membership currently includes more than 300 medical groups and independent practice associations (IPAs) across 44 states, the District of Columbia and Puerto Rico. To achieve Elite Status, organizations must receive five-star ratings in six publicly reported domains: Care Management Practices, Information Technology, Accountability and Transparency, Patient-Centered Care, Group Support of Advanced Primary Care and Administrative and Financial Capability.

This is the eighth year in a row that the medical group has received APG recognition. Mercy Medical Group previously received Excellent Status in 2013 and has received Elite Status every year since 2014.

"Mercy Medical Group is once again honored to be awarded Elite Status for our work to exceed national standards when it comes to quality, patient experience, and affordability," said Alan J. Shatzel, DO, CEO of Mercy Medical Group.