Last Friday afternoon, a group of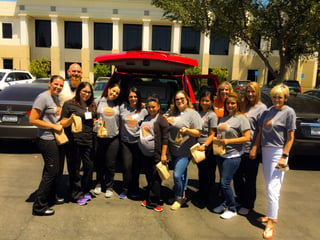 employees from Dignity Health Medical Group – Bakersfield, a service of Dignity Health Medical Foundation, set out to deliver 120 sack lunches to the homeless. The employees raised money, purchased items, packed the lunches, and then delivered them firsthand.
"It was an incredible experience and all the employees who participated were deeply moved," said Francie Barnett, Clinic Operations Manager. "We truly care about the communities we serve and this is one of the ways we're able to help out those in need."
About a year ago, Dignity Health Medical Foundation employees from different offices in the Bakersfield area formed an activities group to give back to the community. This group has organized many events over the past year but the most rewarding has been serving the homeless. They have plans to volunteer and serve lunch at additional locations in the Bakersfield area in the future.
A huge thank you to those who participated in this wonderful event, demonstrating true humankindness!