March is Colorectal Cancer Awareness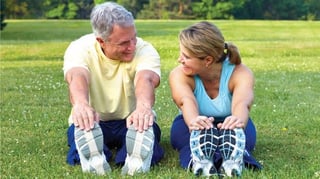 Month – a time to become familiar with the risk factors and warning signs associated with this increasingly survivable disease.
Colorectal cancer is the third most commonly diagnosed cancer among men and women in the United States. Although a study released last month found the risk for people born in 1990 or later is increasing, the average age at diagnosis is still 72.
Factors that can increase your risk for colorectal cancer include:
Family history of polyps
First degree family (sibling or parent) history of colon cancer
Personal history of ovarian, breast or uterine cancer, or ulcerative colitis or Crohn's disease
Cigarette smoking
Inactivity, obesity or a diet high in red meat and animal fat but low in calcium, folate, and fiber
Colorectal cancer typically has few, if any, symptoms. If symptoms are present they may include a change in bowel habits; persistent abdominal discomfort; rectal bleeding; and weakness or fatigue.
"Because treatment is dependent on the stage of the disease, we urge patients to undergo recommended screenings including colonoscopy," says Rana Khan, MD, FACP, an interventional gastroenterologist with Mercy Medical Group. "And of course, if something doesn't seem right, talk to your doctor. We are here to help."
You should begin screening for colorectal cancer soon after turning 50, and then continue getting screened at regular intervals. However, if you have a family history of colorectal cancer or other risk factors, you may need to get screened before the age of 50. Speak with your doctor about when you should begin screening and how often you should be tested.
For more information visit: http://www.cancer.org/cancer/colonandrectumcancer/ (800.227.2345)
To schedule an appointment with a Mercy Medical Group gastroenterologist, please call 916.733.5779. For all other areas, find a gastroenterologist near you!