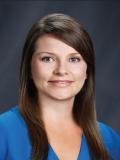 Almost everyone has been affected by COVID-19 in one way or another. This time of crisis has caused feelings of stress and anxiety for much of the population. For Sara Whatley–Dustin, DO, a Family Medicine physician with Dignity Health Medical Group — Ventura Region, virtual visits are a way to provide mental health resources to patients during this stressful time.
Since the beginning of the pandemic, Dr. Whatley–Dustin has been treating patients digitally, through virtual visits. While clinics are open and safe for in-person visits, virtual visits have been a convenient option for many. Through secure, HIPAA-compliant technology, patients are able to see and speak with their physician through video on their mobile device, tablet or computer. Doctors can even provide a treatment plan, prescribe medication and request follow-up care just as they would during an in-person visit.
Recently, many of Dr. Whatley–Dustin's patients have been experiencing physical symptoms related to stress or anxiety. Because of this, much of Dr. Whatley–Dustin's appointments have been focused on providing mental health tools to patients.
"It's totally expected and normal to feel anxious when our life and normal routine are turned upside down," said Dr. Whatley–Dustin. "During shelter in place, a lot of or coping mechanisms are not available, so we have to recognize that we're having anxiety or stress."
Virtual visits have allowed Dr. Whatley–Dustin to help patients address their anxiety and develop new tools to cope with stress. In many cases, having someone to talk to and point out mental health tools and resources has provided comfort.
"I think just being heard is very helpful because a lot of patients want to have their feelings validated and to know that they're not alone," said Dr. Whatley–Dustin.
Dr. Whatley–Dustin found that the majority of her patients have embraced virtual visits as an option, regardless of their demographic. Dignity Health Medical Group clinics remain open and safe for in-person visits, but many people find that they enjoy the convenience that virtual visits provide. Virtual visits are also useful for patients who might be home bound, or who have great difficulty with transportation.
"Some patients travel often for work so they like to be able to see their doctor anywhere anytime," said Dr. Whatley–Dustin.
As we enter the "new normal" we have to embrace quick change in many aspects of our lives. Dr. Whatley–Dustin says most patients have been able to adjust to virtual visits and enjoy the opportunity to speak with her from the comfort of their homes.
"Almost every single patient that I talk to is so thankful to have the opportunity to talk to me," said Dr. Whatley–Dustin. "It's been really nice because you know you're making a positive impact in people's lives. And that's why we do this."