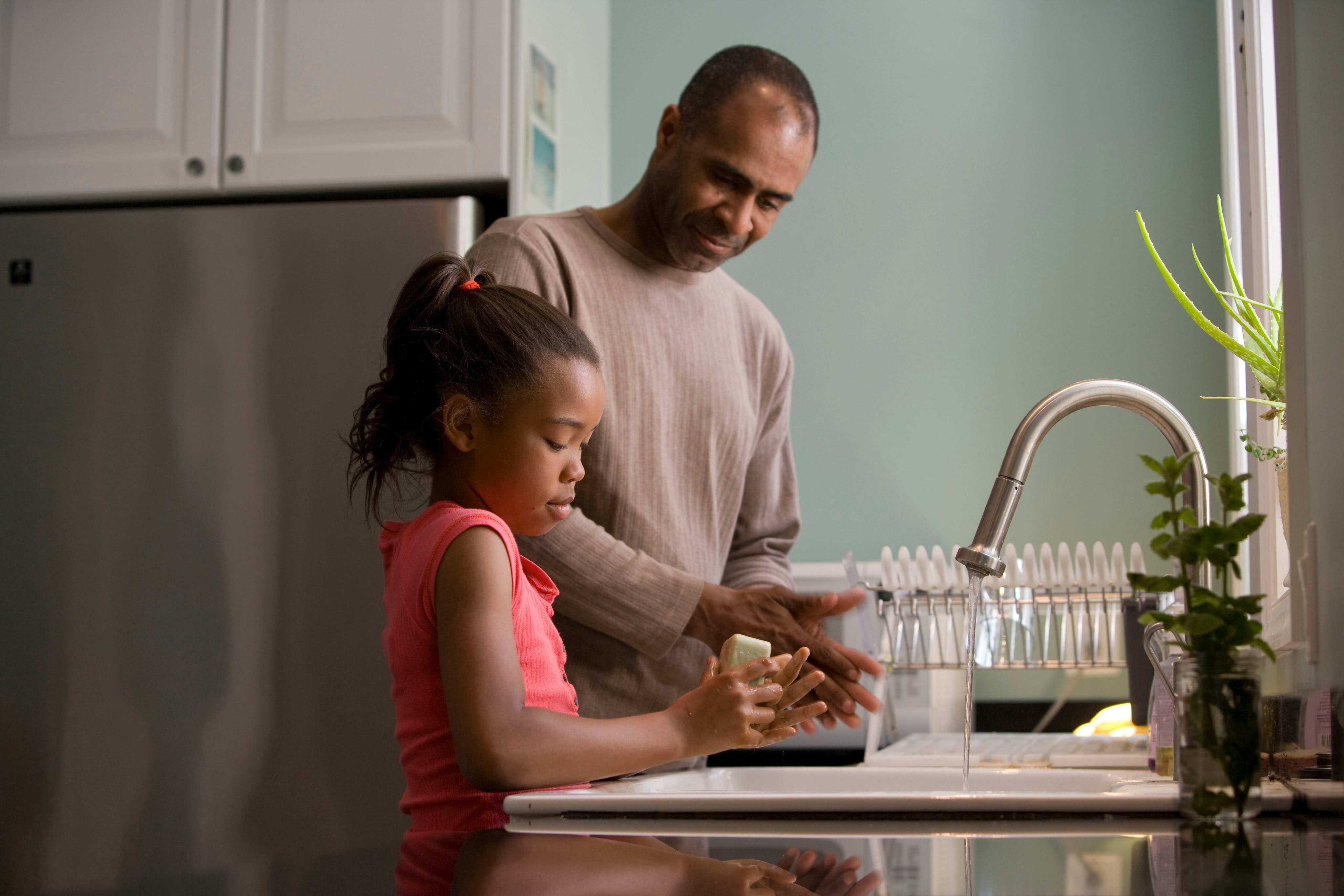 The current global coronavirus (COVID-19) health crisis has many on high-alert when it comes to spreading germs. Our hands touch dozens of surfaces each day that are home to thousands of bacteria and viruses, many of which can last up to a week if not sanitized. According to the World Health Organization (WHO), COVID-19 virus may persist on surfaces for a few hours or up to several days. Now more than ever, it's critical to steer clear of germs to prevent from contracting or spreading the coronavirus by disinfecting frequently used surfaces and regularly washing your hands.
Minimizing the spread of germs
Dr. John Martinez, an urgent care physician with Dignity Health Medical Foundation in Woodland, shared a handful of recommendations for preventing the spread of germs. First and foremost, avoid touching your face – specifically your eyes, nose and mouth. Touching your face after coming into contact with various surfaces, increases your chance of transferring a virus.
Always cover your mouth when you cough. You can use your elbows to prevent spreading germs on your hands. Otherwise, immediately wash your hands with warm water and soap for at least 20 seconds and dry them off with a paper towel. Soap can help prevent the spread of certain infections, whereas alcohol-based sanitizers may not tackle certain viruses and bacteria.
Dr. Martinez shared that we should wash our hands as frequently as possible, especially:
Before preparing or eating food
After using the bathroom
After sneezing, coughing or using a tissue
After petting, feeding or cleaning up after a pet
After touching any surface that might be contaminated (e.g. door handles, faucets, countertops)
If you don't have access to clean water and soap, then an alcohol-based sanitizer with an alcohol concentration of at least 60% alcohol is the next best choice. However, make sure to use enough hand sanitizer to make it effective and rub the hand sanitizer over the entire surface of both hands until they are completely dry.
Coronavirus symptoms and treatment
Dr. Martinez shared that many COVID-19 symptoms are much like those you experience with the common flu, such as a cough, runny nose and fatigue. However, elderly persons and people with compromised immune systems tend to have worse symptoms – including a fever and difficulty breathing.
Stay home and monitor your health if you are experiencing cold-like symptoms such as a sore throat and a mild cough. You can use traditional remedies such as hot tea, honey and over-the-counter medicine.
It's also important to practice social distancing to avoid spreading germs and maintain six feet of distance from others outside of your home.
If you are experiencing more severe symptoms such as fever, shortness of breath or chest pain, then it's best to call your primary physician and schedule an over-the-phone screening and evaluation. Many insurance providers are currently offering telehealth appointments at no cost so that you can be seen at home. Please note, only your primary care physician can order testing for COVID-19 as they are not available at urgent care clinics.
Practice self-care
Lastly, Dr. Martinez shared, it is important to take care of yourself and boost your immunity by following these tips:
Get at least eight hours of sleep each night
Limit stress and disconnect from mobile devices when able
Exercise regularly
Maintain a healthy diet
Maintaining good hygiene