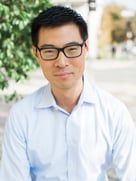 Dignity Health Medical Foundation has announced that Joe Kim, has been named Executive Director of Dignity Health Medical Network (DHMN). Joe was previously Executive Director for the organization's Dignity Health Medical Group – Inland Empire and Dignity Health Medical Group – Northridge Family Medicine clinics. DHMN is Dignity Health Medical Foundation's state-wide managed care health plan contracting entity, which provides administrative and practice management support and resources to independent practice associations (IPA), allowing providers to better serve patients.
In his new role, Joe is responsible for developing and implementing the overall strategic plan of DHMN, including managing all IPA operations for Dignity Health Medical Foundation. He also works to conduct market analysis to determine the strategic direction for future IPA opportunities, in order to better serve communities throughout the state.
DHMN already serves Santa Cruz County, San Mateo County, the greater Bakersfield region, and communities throughout the Inland Empire. The network of providers includes more than 600 leading primary care and specialty physicians.
"Joe Kim is a proven health care leader with a track record of success," said Jennifer Schaab, MBA, MPH, Chief Operating Officer of Dignity Health Medical Foundation. "Under Joe's leadership, Dignity Health Medical Network will continue to forge collaborative relationships with providers, hospitals, and other health care delivery systems and our network will remain focused on delivering high quality, patient-centric care and value for the communities that we serve."
Joe lives in Pasadena with his wife, Katrina, and their dog. He has a Master's in Business Administration from Harvard Business School and a Bachelor's of Science from Georgia Tech.