Dignity Health Medical Foundation announced that Tristan Kouk has joined the organization as Vice President of Operations, Northern California.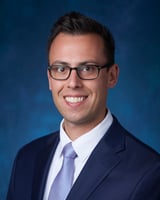 In this new role, Kouk will partner with physician and clinic teams as well as hospital colleagues to develop and drive operational strategies that prioritize the delivery of high quality, patient-centric care for Dignity Health Medical Group locations in his region.
"We are pleased to welcome Tristan to Dignity Health," said Mark Behl, MHA, MBA, CEO of Dignity Health Medical Foundation. "He is an accomplished operational leader and he will be instrumental in continuing our work to deliver an exceptional experience for our patients and care teams."
The Dignity Health Medical Group footprint in Northern California ranges from Redding to Santa Cruz. It includes locations in Santa Cruz County (Aptos, Boulder Creek, Capitola, Felton, Santa Cruz, and Watsonville), San Francisco Bay Area (Belmont, Half Moon Bay, Redwood City, and San Francisco peninsula), Stockton, Redding, and Red Bluff.
"I was drawn to the core mission and values of Dignity Health and I am thrilled to join an organization that prioritizes patient-centric care and humankindness," said Kouk. "I look forward to working alongside our talented teams to help ensure that the communities we serve have access to high quality, affordable, care close to home."
Prior to this role, Kouk was Executive Director of Operations for St Joseph Health Medical Group in Sonoma County, within the broader Providence-St Joseph Health System. Kouk received his Bachelor of Science and Master of Health Administration degrees from Cornell University.
###
About Dignity Health Medical Foundation
Dignity Health Medical Foundation, established in 1990, is a not-for-profit organization providing award-winning and patient-centered ambulatory services in a variety of areas including primary and specialty care, diagnostic imaging, vision, occupational health, urgent care, and behavioral health. Dignity Health Medical Foundation supports physician medical groups, Independent Physician Associations (IPAs), and network providers representing 3,500 employed and independent providers across California. For more information on Dignity Health Medical Foundation and the wide range of services it provides, please visit www.dhmf.org.