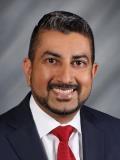 Munir S. Janmohamed, MD, advanced heart failure cardiologist and medical director of the Mechanical Circulatory Support/Heart Failure Program with Mercy Medical Group, has experienced first-hand how virtual visits expand patient care. Through virtual visits, Dr. Janmohamed has been able to help patients manage chronic heart failure, improve their symptoms, and in some cases, prevent hospitalization.
While all Dignity Health Medical Group clinics are open and safe for in-person visits, many patients enjoy the convenience and experience virtual visits have to offer. Dignity Health Medical Groups have also seen a significant increase in virtual visit appointments across our facilities in recent months. Dr. Janmohamed says patients have enjoyed virtual visits as a high-quality service that compliments regular office visits.
"Virtual visits allow for outreach of my expertise to a broader area for patients that may not have means to come see me as often in the office," said Dr. Janmohamed. "It also allows me to keep a closer eye on patients as well as optimize medical management."
Virtual visits use live, secure, HIPAA-compliant video technology. During a virtual visit, patients can directly see and speak with their clinician through their mobile device, tablet or computer. Appointments are available to new and existing patients who are seeking primary and specialty care. Clinicians can also provide a treatment plan just as they would during an in-person appointment, including prescribing medication and requesting follow-up care.
"When I speak to my patients about virtual visits, I reassure them of the ease of starting an encounter and the huge benefit of being seen via video rather than a phone call," said Dr. Janmohamed. "They feel as reassured as do I seeing them."
In addition to convenience, virtual visits offer a way for physicians to provide support for patients during this difficult time.
"I end my visit by telling patients that I am there for them, and telemedicine allows a quick way to provide that support," said Dr. Janmohamed.
Patients can schedule their virtual visit online and enjoy the flexibility and convenience of virtual visits from the comfort of their homes.