Need ideas for moisturizing dry lips, getting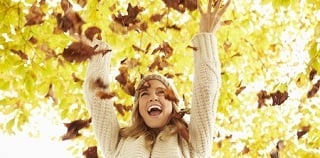 dewy skin, improving skin tone and texture and keeping skin hydrated as we head towards the dry winter months? Find out our best skin care recommendations!
Say Bye-Bye to Dry Lips
Jane Iredale's Lip Drink keeps lips protected in the coldest and driest conditions. Unlike traditional lip balms, Lip Drink contains only natural moisturizers and sun blocks giving lips total protection with no side effect. This lip moisturizer also refreshes the lips with a tangy citrus scent and instant hydration. Available in Sheer, Buff, and Berry for $12.00.
Dewy-looking skin is a must!
Use a lightweight, dewy foundation to even out your skin tone! We recommend applying Jane Iredale's Liquid Minerals Foundation ($40.00) followed by Jane Iredale's Active Light Concealer ($22.00) around the nose and under the eye. This helps camouflage any extra discoloration and blend seamlessly with foundation for a flawless complexion.
Improve skin tone and texture
Autumn weather changes affect skin hydration which can leave us with a rough and flakey complexion. Exfoliation is critical to combating this rough skin texture. One of our favorite products is the Skin Medica AHA/BHA Exfoliating Cleanser ($36.00). This wonder product uses Alpha Hydroxy and Beta Hydroxy acids to gently and efficiently slough away dead skin cells, leaving skin looking smooth and radiant. Pair this with Skin Medica's AHA/BHA Cream ($34.00) to enhance exfoliation and provide your skin with moisture-binding vitamins.
Hydrated skin is happy skin!
Our skin is our largest organ and its hydration is constantly in-flux. Moisturizers and night creams are a necessity when it comes to your fall skin care regimen.
To rebuild and reboot dehydrated skin, you will need a moisturizer that offers the right balance of vitamins and nutrients to penetrate deep into the skins cellular matrix. Skin Medica's moisturizers are great; they offer a wide range of products suitable for any skin type! Range between $45-$99.
Call Mercy Medical Group Plastic Surgery and Laser Center at 916.536.2400 if you would like to purchase any of these products or if you would like to book a free consultation.