November is National Diabetes Month, so we asked Dignity Health Medical Group endocrinology, diabetes and metabolism specialists to share their family-favorite recipes for people with diabetes or prediabetes.
Check them out below and let us know if one of these delicious recipes makes it to your dinner table this holiday season.
---
Roasted Carrots by Anne Barnett, MD | Dignity Health Medical Group — Stockton

"One of our favorite sides for Thanksgiving is roasted carrots lightly sprinkled with Mrs. Dash no-salt seasoning. My children love it!"

Ingredients: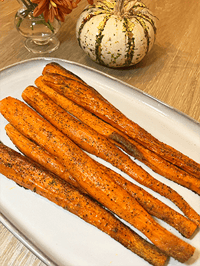 Large carrots
Mrs. Dash salt-free seasoning

Instructions:

Wash and peel large carrots.
Then cut in half and lay them out onto a baking sheet.
Drizzle with a light coat of olive oil, and sprinkle a light amount of Mrs. Dash seasoning.
Bake in the oven at 375°F for 75-90 minutes. Timing will depend on the size of the carrots.
---
Superfood Chocolate Chip Cookies by Harshit Shah, MD | Dignity Health Medical Group — Bakersfield
"I make these superfood chocolate chip cookies for my daughter every holiday and they're a hit! No added sugars. No animal saturated fats. No cholesterol or trans fats."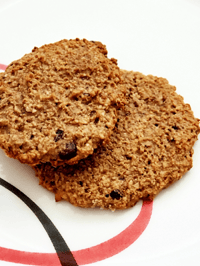 Ingredients:
½ cup peanut butter
½ cup soy milk
8 medjool dates
1 cup almond flour
1 cup oats
¼ cup flax meal or chia seed powder
½ cup goji berries
½ cup cocoa nibs
1 ripe banana
1 Tbsp vanilla

Instructions:

Put everything into a food processor and blend until well combined. I recommend bending in the dry ingredients last.
Place spoonfuls of the batter onto a parchment paper lined cookie sheet.
Press them down with another piece of parchment paper.
Bake at 350°F for 20 minutes.
Source: T. Colin Campbell Center for Nutrition Studies
---
Jeffersonian Macaroni and Cheese by Amanda Eckrich-Gaub, NP | Dignity Health Woodland Clinic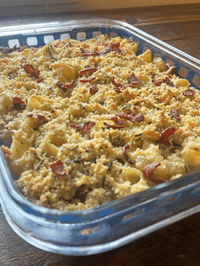 "Most people with diabetes can eat a treat every once and a while, as long as it's not an everyday thing! Rumor is, President Jefferson brought macaroni and cheese to the White House from Paris. Traditionally, sherry or a dry white wine is used, but feel free to leave it out if you want — it will still taste delicious! Just remember to count the carbs on the back of the pasta box and account for the fat. Remember, fat makes carbs stick around for a longer time. As a diabetes patient myself, I usually have less mashed potatoes or stuffing so I can eat this, and my blood sugar is still manageable."
(Nutritional facts based on using Cavatappi pasta and breading topping: 66g of carb without topping, 69g of carb with topping)
Per serving (1 cup), servings: 7
Ingredients:
3 cups milk
1 small yellow onion, finely chopped
½ clove garlic, minced
4 fresh thyme sprigs
1 bay leaf
1 tablespoon plus 1½ teaspoons kosher salt
1 package dried Cavatappi or Rotelli or other spiral pasta shape
¼ cup unsalted butter
3 tablespoons all-purpose (plain) flour
¼ lb or small package sharp Vermont cheddar cheese, shredded (or any sharp cheese, feel free to mix together)
¼ cup minced fresh chives
2 tablespoons dry sherry or Sauvignon Blanc wine (usually New Zealand is best) optional
½ package of diced pancetta or bacon optional
freshly ground pepper to taste
Topping optional
½ cup dried bread crumbs
2 tablespoons grated Parmesan cheese
1 tablespoon olive oil or melted unsalted butter
Instructions:
Preheat an oven to 350°F. Lightly butter a 1½-qt shallow baking dish.
If you use the bacon, slice it thinly into bite-sized pieces. Add to a saucepan over medium-high heat and cook through. Remove the bacon/pancetta and set aside. Keep some of the oil in the pan to cook the other ingredients.
In the same saucepan used to cook the bacon/pancetta, combine the milk, onion, garlic, thyme, and bay leaf. Bring to a boil, remove from the heat, and set aside.
Bring a large pot three-fourths full of water to a boil. Add the 1 tablespoon salt and the pasta and stir well. Boil until about 1 minute short of al dente, according to the package directions. Drain the pasta.
In the same pot in which the pasta was cooked, melt the butter over medium-low heat. Add the flour and whisk until well blended to make a roux. Continue to cook, whisking constantly, until the mixture is bubbly but not browned, about 1 minute. Whisking constantly, slowly add the infused milk mixture that you set aside earlier. Raise the heat to medium-high and whisk constantly until the mixture boils (this may take a while). Don't stop whisking or the milk will burn. Once boiled, reduce the heat to low and simmer, stirring gently, whisking occasionally, until the mixture is smooth and thick, about 5 minutes.
Remove the pot from the heat. Remove the bay leaf and the thyme sprigs, pluck off any thyme leaves still clinging to the stems, and return them to the pot, discarding the stems and bay leaf. Add the cheese, chives, optional bacon/pancetta, optional sherry, 1½ teaspoons salt, and pepper. Stir until the cheese is melted and smooth. Add the drained pasta and toss gently to combine. Pour into the prepared baking dish.
If desired, make the topping: In a small bowl, combine the bread crumbs, Parmesan cheese, and olive oil or butter. Stir until well blended. Sprinkle the mixture evenly over the pasta. Add additional cooked bacon or pancetta to the top if desired.
Bake the pasta until the sauce is bubbly around the edges of the dish and the top is browned, about 40 minutes. Remove from the oven and serve directly from the baking dish.