Many people are familiar with the most common signs to look for when having a heart attack – shortness of breath, pain in the limbs, and feeling like there's an elephant sitting on your chest. But did you know women often have completely different symptoms than men when it comes to identifying poor heart health?
Heart disease is the leading cause of death among women in the U.S. Three of our cardiology experts offered more information on the symptoms that women should look for and how they can prevent heart disease.
Don't Ignore The Signs
"Sometimes, it could be as simple as fatigue and sharp pain, especially in women. It could also be abdominal pain" said Dr. Azadeh Toofaninejad, a cardiologist with Dignity Health Mercy Medical Group. Dr. Toofaninejad recommends visiting your primary care provider if you're experiencing any out-of-the-ordinary physical symptoms. Primary care physicians can then refer you to a cardiologist for additional testing based on the symptoms you bring up.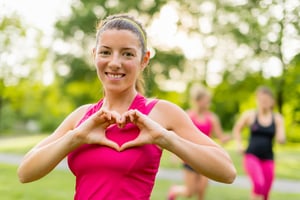 Dr. Toofaninejad also shared that moderate to severe leg pain when exercising can also be an indication of deteriorating cardiovascular health – for women, as much as men. "Treatment starts with prevention," she said. "After 20 years of age you should talk to your doctor about heart health and get blood work done every three to five years."
Know If You're At Risk
Dr. Catherine Malmsten, a cardiologist with Dignity Health Mercy Medical Group, shared that physical stress, such as pregnancy, on a woman's body can also be linked to heart conditions. Issues such as preeclampsia, gestational diabetes, or hypertension during pregnancy are all signs of increased inflammation and that can potentially result in developing a cardiovascular disease later in life.
"Women are more likely to ask a friend for help as opposed to going straight to a doctor," said Dr. Malmsten, who recommends consulting a doctor for a heart scan to determine your Coronary Calcium Score (CCS) as a preventative measure.
Dr. Malmsten also recommended factoring in genetics, as they play a significant role when determining whether you're at risk. "Know your family health history," said Dr. Malmsten, as hypertension and diabetes commonly run among families.
Practice Self-Care
"Women are ten times more likely to die of heart disease than breast cancer," said Dr. Amardeep Singh, an interventional cardiologist with Dignity Health Mercy Medical Group. Unfortunately for many women, the stresses of everyday life don't leave enough time for self-care.
Dr. Singh shared that stress produces negative hormones in the body and exposes us to more risk. It's important for women to allow enough time in their day to visit their doctor and incorporate healthy habits into their routine. "Take the time to exercise and eat right…everything in moderation," said Dr. Singh.