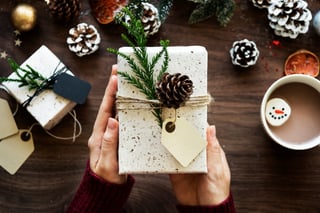 The U.S. Consumer Product Safety Commission (CPSC) estimates that 15,000 people end up in the ER every holiday season because of injuries sustained while decorating for the holidays. That sobering statistic doesn't include injuries related to cooking accidents, car crashes and winter sport injuries!
The CPSC offers these tips to help you avoid being the victim of a holiday mishap.
Climb Carefully: About 6,000 people are treated in emergency departments every year for holiday decorating-related falls — usually when stringing up lights or taking them down, according to the Centers for Disease Control and Prevention. The most injuries are incurred by men between the ages of 60 to 85. Typically, these accidents happen when someone is using a ladder to hang decorations and didn't ask for help. To avoid injury on ladders:
Check the ladder's label to make sure you don't exceed the weight limit.
Inspect the rungs before you climb to be sure they are solid and dry.
Make sure the ladder is on even, solid footing before you climb.
Have someone hold the ladder steady.
Monitor Open Flames: Menorah and other holiday candles are among the top causes of fire-related injuries and 2,200 deaths a year, according to the National Safety Council. Half of December home decoration fires were started by candles, compared to one-third in January to November. The top three days for home candle fires are Christmas, New Year's Day and Christmas Eve. To enjoy candles safely:
Use sturdy, uncluttered candle holders.
Keep your hair, loose clothing, curtains, stockings and kids away from flames.
If a candle must burn continuously, be sure it is enclosed in a glass container and placed in a sink, on a metal tray, or in a deep basin filled with water.
Watch Your Tree: On average, one of every 31 reported Christmas tree fires at home resulted in death compared to an average of one death per 144 total reported home fires. To avoid a tree-related accident:
Check each set of lights for broken or cracked sockets, frayed or bare wires or loose connections.
Don't use more than three standard-size sets of lights per single extension cord.
Turn off all lights when you leave the house or go to bed.
Dispose of fresh trees that are past their prime.
Other Decorating Dangers: "Angel hair" or tinsel is made from spun glass, and it can irritate your eyes and skin. Always wear gloves when handling it or substitute it for non-flammable cotton.
Artificial snow on windows or other surfaces can irritate your lungs. Follow the instructions and ventilate the area.
Certain seasonal plants — think poinsettias — can poison kids and pets. Keep them out of reach and immediately dispose of fallen leaves.