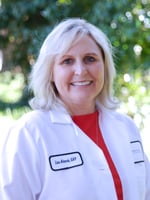 Lisa Adamek, GNP, with Mercy Medical Group, has been honored by the American Nurses Credentialing Center (ANCC) as a 2019 Certified Nurse Award recipient for the Gerontology Nurse Practitioner category.
Every year the ANCC recognizes certified nurses for their significant contributions to different fields of practice. The judges review each nominee and choose winners based on innovation, collaboration, leadership and professional risk-taking, and patient-centered care.
The judges cited Adamek's significant contributions in developing and managing a home-based primary care program for the geriatric population in Sacramento. The ANCC recognized Adamek as a passionate servant leader and committed mentor, stating that "her empathy and grit set the standard in health care delivery in the home setting."

"I cannot think of a more deserving awardee," said Antonio "Ben" Balatbat, MD, Chief Medical Officer for Mercy Medical Group. "Her leadership and dedication in providing exceptional health care to homebound patients has been a driving force for the sustained success of the Mercy Medical Group House Call Program."
As a master's prepared geriatric nurse practitioner from UCSF, Adamek pioneered the Geriatric House Call program in 2008, when she joined Mercy Medical Group. The program was designed to reduce hospital admissions and re-admissions and focus on chronically ill and high risk patients. Over the past decade the program has grown to include five full time Advanced Practice Clinicians to help in its continued success in serving the most vulnerable seniors at home in the Greater Sacramento Area.