Mercy Medical Group, a service of Dignity Health Medical Foundation, is now offering pediatric care in Folsom. The new Mercy Medical Group pediatric offices are located at 1561 Creekside Drive, Suite 150 and include more than 5,000 square feet of space, including 12 exam rooms.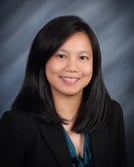 Mercy Medical Group pediatrician Marvi Montano-Ip, MD, will be based at the new location providing care for newborns to 18-year-olds. She previously practiced at Walton Pediatrics & Medical Associates (Sacramento). Dr. Montano-Ip completed her Pediatric Residency at Texas Tech University, El Paso Children's Hospital, and prior to that received her medical degree from the University of Santo Tomas in Manilla, Philippines. She is fluent in Tagalog and has particular interest in preventative care and developmental pediatrics.
"I look forward to providing exceptional care to families throughout the Folsom area," said Dr. Montano-Ip. "Every child deserves the opportunity to be happy and healthy and it's a privilege to be able to offer the best and most comprehensive pediatric care possible."
In addition to primary care, Mercy Medical Group includes a wide variety of specialties in Folsom, including: allergy, behavioral health, cardiology, endocrinology, gastroenterology, general surgery, hematology/oncology, neurology, OB/GYN, optometry, ophthalmology, orthopedics/sports medicine, pain management, plastic surgery, and podiatry.
Dr. Montano-Ip is currently accepting new patients. To learn more about Mercy Medical Group's Folsom Pediatrics, call 916.351.4825.