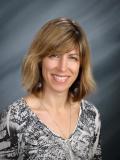 Today and every day, we celebrate mothers and mother figures in our lives and recognize the care they give to their families, their communities and their careers. This Mother's Day, we asked Stephanie Parmely, PhD, a Behavioral Health Psychologist at Dignity Health Mercy Medical Group and mom, to weigh-in on how she navigates motherhood, her career and most importantly, self-care.
What have you learned through balancing motherhood and your career in healthcare?
Dr. Parmely: Reflecting on this past year in a pandemic, I definitely had challenges balancing my work with parenting, as was the case for many people. However, I am lucky to have the blessing of grandparents to help with child care, pick-ups, drop-offs, etc. The biggest thing I have learned in balancing being a parent with having a career, is the importance of simplicity. I minimize the extra things outside of work and family to focus on what's most important.
What advice would you give to new working moms?
Dr. Parmely: Keep it simple. Embrace the idea that you may not have the bandwidth to be great at everything — and that's okay. We don't have to be Superwoman. Instead, try to reduce the amount of extra work you take on to help better manage your major responsibilities. If and when you feel you have things under control, then you can start to gradually add more to your plate. When I was a new mom, I found it was so nice once I gave myself permission to cut extra commitments out of my life and focus solely on my day job and my parenting.
I also recommend seeking out resources and asking for help from others in your life when you need it, such as grandparents, friends and other parents. This can make life easier in the short-term and help you build a long-term support system so that you can take breaks for yourself when you need them. Something as simple as listening to an audiobook on your commute home from work or catching up on a podcast while cooking dinner can make all the difference.
How important is it for moms to also prioritize their own health?
Dr. Parmely: It can be difficult to make time for ourselves, especially as new moms, but it's critical to create space in the day for our personal health. Sleep can be one of the hardest things for new parents, but sleeping when your baby sleeps (or whenever else you can) can make a major difference in your day.
Exercise is also important, for both our physical and mental health. I recommend some form of exercise three to five times per week. You can walk or jog with your baby in a stroller, or attach a trailer to your bike to make it a family affair.
It's also normal for new moms to experience hormonal changes and stress and feelings of anxiety and depression are not uncommon. However, if those feelings are happening often and for long periods of time (over two weeks), it's important to talk to your doctor so that they can help.
We hope each mother takes a moment (or two) to care for themselves this Mother's Day!