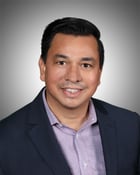 Dignity Health Mercy Medical Group (MMG) has appointed Peter Valenzuela, MD, MBA, as Chief Medical Officer (CMO). As CMO, Dr. Valenzuela will oversee all aspects of clinical care for MMG and provide strategic leadership to provide high-quality, patient-centric care in the Sacramento region. This includes the performance, recruitment, engagement and wellness of the 480 primary and specialty care clinicians with Dignity Health Mercy Medical Group. He will be responsible for patient safety, satisfaction and overall quality of clinical care.
"Dr. Valenzuela brings extraordinary experience and a genuine commitment to excellence in patient care," said Alan Shatzel, DO, MBA, CEO of Dignity Health Mercy Medical Group. "His insight, experience, and creative leadership style are valuable assets to Mercy Medical Group as we navigate patient needs in an ever-evolving health care environment."
Dr. Valenzuela will focus on strategic goals to help accelerate innovation and lead change, promote safety and wellness throughout the community, deliver high-quality patient care at a great value, and foster patient-provider relationships. Dr. Valenzuela will also lead and expand vaccination efforts to include underserved populations in our community who lack access to care, and will continue to find innovative ways to care for patients remotely.
"I became a physician to help others improve their health and well-being," said Dr. Valenzuela. "I am proud to be a member of an organization that has the patients' best interests at heart."
A graduate of University of Texas Southwestern Medical School, Dr. Valenzuela completed his residency in Family Medicine at John Peter Smith hospital in Fort Worth, Texas. After five years of practicing rural medicine, Dr. Valenzuela went into academics at Texas Tech University Health Sciences Center of the Permian Basin where he served as Assistant Dean for Clinical Affairs and Chair of the Department of Family and Community Medicine for four years.
Dr. Valenzuela's innovative leadership style and dedication to quality care has led him to many accolades throughout his career. Twice, he has been recognized by the Medical Group Management Association and American College of Medical Practice Executives (MGMA-ACMPE) with the Harwick Innovation Award and the Physician Executive of the Year Award.
Dr. Valenzuela earned a Masters of Business Administration from Auburn University and is a Certified Medical Practice Executive. He holds additional certifications in The Innovators DNA, Insights for Innovation from IDEO U, Healthcare Innovation and Entrepreneurship from Duke University, and a Six Sigma Greenbelt for Healthcare from Villanova University.
When he is not strategizing about patient care, Dr. Valenzuela enjoys spending time with his wife Vivian, who is a winemaker. He is an avid cartoonist and also enjoys hiking, reading and wine-tasting.