We can't always get the full eight hours of sleep we want.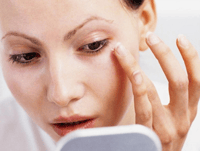 Sometimes this leaves our eyes looking tired. Here are a few tips to brighten up even the most sleepy-looking eyes!
Apply a dot of Jane Iredale's highlighter to the corner of your eyes (near the bridge of your nose) to reflect light and make the shadows appear wider and brightened.
Apply Jane Iredale's white eyeliner pencil to your waterline and Lemon Lid Primer to your eyelid. This is the best way to combat red, bloodshot eyes.
Curl your eyelashes! Flat eyelashes make your eyes appear small and squinted; you must curl your lashes before applying mascara to achieve this wide-eyed look. Apply Jane Iredale's lash conditioner for instant volume!
Wax and fill in your eyebrows, the defined shape of your brows determines the overall look of your face.
Apply Jane Iredale's Active Light or Circle/Delete under Eye Concealer in a triangle shape extended downward and blend outward. This helps create a lifted appearance and makes your eyes look very awake.
Call Mercy Medical Group Plastic Surgery and Laser Center at 916.536.2400 if you have any questions or if you would like to book a free consultation.