Halloween will look a bit different for many families this year as parents and kids navigate how to have a fun, safe Halloween amid the ongoing pandemic. As a pediatrician at Dignity Health Medical Group - Dominican, Komal Afzal, DO, understands there is a healthy balance we must achieve to ensure children's safety while fostering their continued development.
With Halloween around the corner, she urges parents to continue the conversation around safety and encourages open dialogue about how the holidays will look different while finding ways to still make them special. Usual traditions such as costume parties and door-to-door trick or treating may not be happening, but there are certainly still many ways to celebrate Halloween this year.

Follow CDC Guidelines

If you're planning to host or participate in any holiday celebrations, it's a good idea to assess current COVID-19 case rates in your community to determine whether you might need to adjust, postpone or even cancel those festivities.

Avoid High-Risk Activities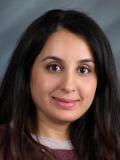 People should avoid crowded events and activities with a high volume of people, including door-to-door trick-or-treating, indoor haunted houses and crowded costume parties. Even outdoor trunk-or-treating, where candy is passed out from the trunk of cars lined up in parking lots, is considered high-risk and should be avoided this Halloween. Dr. Afzal notes that hayrides, tractor rides with people who are not in your household are also important to avoid. Interactions with large groups of people outside of your household can increase the risks of spreading and contracting COVID-19.

If you wish to communicate to your neighbors that you'll pass on this year's social Halloween activities, Dr. Afzal recommends one creative way to do so would be to make some themed signs politely asking trick-or-treaters to keep a distance, or to turn off your lights.

Participate in Safer Alternatives

Dr. Afzal shares there are plenty of lower-risk activities to engage families this Halloween that won't limit fun or safety. These alternatives include carving and decorating pumpkins within your household or outdoors with physically distanced neighbors and friends, hosting a virtual Halloween costume contest, and even setting up a themed candy scavenger hunt in your home or outdoors.

If you do choose to participate in events with small groups of people outside your household, such as an open-air costume contest or an outdoor movie night, those attending should remain physically distant at 6-feet apart and wear proper face masks (this does not include Halloween costume masks). As a reminder, here are a few main guidelines Dr. Afzal would like to reiterate to keep everyone safe this holiday:
Outdoor activities are considered lower risk than indoor activities
Keeping the number of people in your group small helps to decrease the spread of illness
Short interactions of 15 minutes or less are safer than longer durations
Most importantly, access to hand washing and sanitizing, ability to maintain 6 feet apart, and wearing cloth masks at all times is imperative. Costume masks are NOT a substitute for cloth masks.
With cases increasing, we want to be thoughtful about our community's health. If you suspect you may have COVID-19 or may have been exposed to someone with COVID-19, you should forego any in-person Halloween festivities and stay home.

We recommend you follow the latest Centers for Disease Control (CDC) guidelines as well as local, state and federal laws when planning your festivities this fall, to ensure everyone has a safe and enjoyable Halloween.