Every girl should have a makeup bag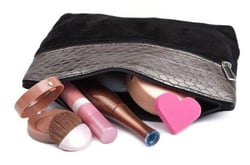 with her favorite products that she keeps in her purse. Here are the top 5 items you should always have with you:
Lip balm: A moisturizing lip balm that also has an SPF is crucial to keep with you year round. Favorite: Jane Iredale lip drink
Lip color: Whether it's a pink, peach or red, a pop of color is perfect for those grey winter days.
Powder: Rain or shine you'll need touchups throughout the day. Favorite: Jane Iredale refillable powder brush
Moisturizer: Face, hands, cuticles all benefit from keeping this in your bag year-round. Favorite: Elta MD Intense Moisturizer
Sun block: Cloudy skies don't mean you can skip reapplying SPF throughout the day.
Schedule a makeup audit in our Skin Clinic and let our estheticians help you update your makeup bag!
Call Mercy Medical Group Plastic Surgery and Laser Center to book your appointment today at 916.536.2400.