As regulatory restrictions relaxed on telehealth services and communities closed down in response to the COVID-19 pandemic, teams across Dignity Health Medical Group took action to rapidly scale virtual care capabilities across the state of California to help our ambulatory physicians and APPs continue to safely see patients, meet demand for care, and reduce the transmission of the virus. Since March, Dignity Health Medical Group physicians have conducted over 150,000 virtual visits.
"COVID-19 expedited virtual care services in our health care systems and rapidly scaled our capabilities," said Bita
Farhadpour, MBA, virtual care administrative lead with Dignity Health Medical Group.
"Our team — which is patient-centric, physician driven, and operation supported, has done amazing work to make this quick transition across the state happen successfully."
Dignity Health Medical Group in California has ramped up virtual care services to help ensure safe, high-quality patient care. Virtual visits are playing an increasingly important role in health care.
"The executive leaders' commitment and partnering with physician leaders made the virtual care services successful and we are proud to achieve over 150,000 virtual visits across California in 3 months," said Christine Braid, MD, virtual care physician lead with Dignity Health Medical Group. "This milestone reflects how quickly patients are embracing virtual visits as a safe and convenient health care option."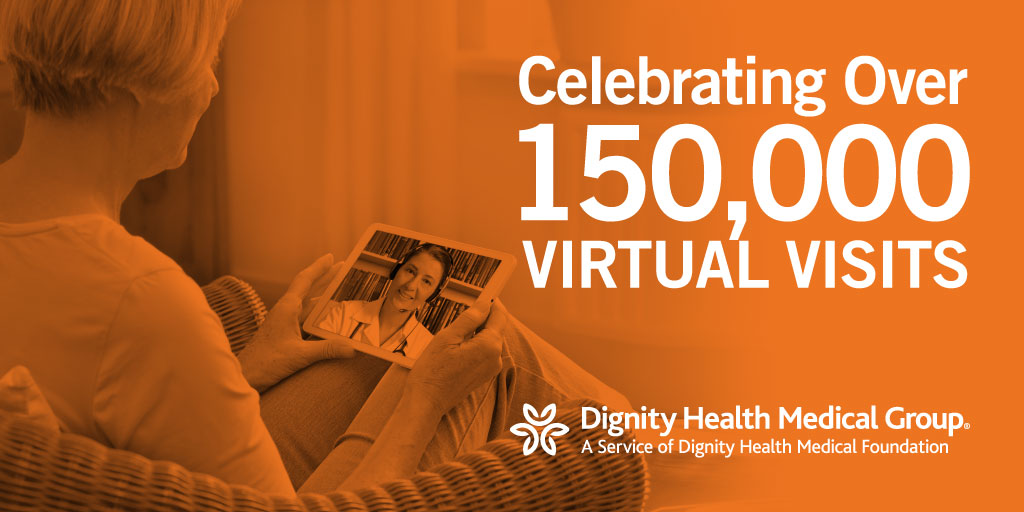 When Should You Schedule a Virtual Visit?
While clinics remain open and safe for in-person visits, many conditions are suitable for virtual visits, allowing patients a safe and convenient option to receiving high-quality care when needed from the comfort of their home.
"We have put a number of best practices and measures in place to ensure patient safety during this time, whether their health care needs require an in-person visit or they can be managed virtually," said Robert Quinn, MD, President of Santa Cruz Medical Group and Dignity Health Medical Group's physician leader for re-opening in California. "We want the community to know that our clinics are open to take care of their health care needs. Please don't wait until it becomes an emergency."
Many non-urgent medical visits can be conducted through a virtual visit. Online, doctors are seeing patients for common illnesses and injuries. Patients can also get in touch with their primary or specialty care physicians to determine if their regular appointments are best suited for virtual or in-person visits.
Anyone experiencing mild symptoms associated with COVID-19 is a candidate for a virtual visit. Staying home will help prevent the spread of the virus to health care professionals and other patients. If you're experiencing shortness of breath, dry cough and a fever, it's best to seek in-person medical care.
What Can I Expect From a Virtual Visit?
A virtual visit uses live, secure, HIPAA compliant video technology to allow patients to directly see and speak with their physician through the convenience of their mobile device, tablet or computer.
Patients should expect virtual visits to be conducted just like an in-person visit, except both patient and physician are remote. During a virtual visit, doctors will be able to provide a treatment plan, just as they would for an in-person visit. Physicians can then prescribe medication and request follow-up care.
Virtual visits are one way Dignity Health Medical Group is preventing the spread of COVID-19 and prioritizing patient safety. Many patients are opting for virtual visits not only for the safety, but for the reassurance and convenience they offer.
"To know that patients have very easy access to me and are able to have a 'face to face' conversation with me is comforting," said Jennifer Steen, MD, Dignity Health Medical Group, Ventura Region. Sometimes, I prefer the video visits because neither of us are wearing masks so I can read facial expressions better."
How to Get Started
To schedule a virtual visit care appointment with a medical group physician or APP, call your local primary or specialty care facility.