Halloween is just around the corner, marking the beginning of the holiday season. With pandemic guidelines having loosened in many parts of the state, people are excited for an end-of-year holiday season that's reminiscent of pre-pandemic celebrations from years past. Even with vaccination numbers on the rise, we should continue to recognize that we are still in the midst of a pandemic. This Halloween, it is important to continue taking precautions against spreading the COVID-19 virus whenever possible.

How to Celebrate Halloween Safely
The CDC recently released updated guidelines for this holiday season. If you and your family plan to trick-or-treat or celebrate in a group setting this Halloween, here is a checklist of precautions to stay safe:
Children and adults who are not vaccinated should wear a well-fitted mask over their nose and mouth in public settings.
Outdoor events are safer than indoor events. Avoid crowded, poorly ventilated spaces when possible.
If someone in your household is sick or showing symptoms, stay home and do not host or attend any gatherings or events.
Get tested if you have symptoms of COVID-19 or have been in contact with someone who has COVID-19.
The best way to minimize risk of COVID-19 and keep loved ones safe is to get vaccinated if you're eligible.
How Dignity Health Medical Group Physicians Are Celebrating
We asked three physicians how they'll be celebrating Halloween this year and what safety measures they'll be taking to maximize family fun while celebrating responsibly.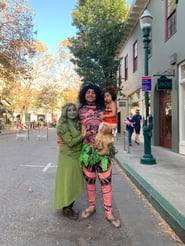 Komal Afzal, DO, Dignity Health Medical Group — Dominican
In lieu of costume parties and haunted houses, Dr. Afzal and her family have been getting in the Halloween spirit in other ways. "We love autumn in our household and appreciate the start of the holiday season! I have two young children under the age of five, so they help put up our Halloween decorations. We already went to the pumpkin patch and were able to choose pumpkins that we will soon be carving," says Dr. Afzal.
The family has prepared their costumes for a local outdoor parade, after which they'll trick-or-treat around the neighborhood. "Masked up, of course!" says Dr. Afzal.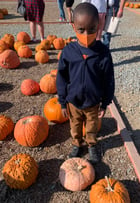 Jennifer Overbey, MD, Dignity Health Mercy Medical Group
Dr. Overbey emphasizes that the pandemic is not yet over, so the holiday should be celebrated with safety in mind. "Consider standing outside to pass out candy," she suggests. Dr. Overbey and her son will be attending his school's "trunk-or-treat," where families gather in their vehicles and children go from trunk to trunk collecting candy and showing off their costumes instead of going door-to-door in their respective neighborhoods. "My son will enjoy partaking in this event with his classmates more than going trick-or-treating with me!" says Dr. Overbey.

If you're looking for other ideas to celebrate this fall, Dr. Overbey and her family enjoy visiting local pumpkin patches where families can take photos, drink hot cider, and enjoy the fresh air outside.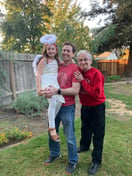 Andrew Katz, MD, Dignity Health Mercy Medical Group
Dr. Katz and his family will be trick-or-treating the old-fashioned way, but with a few extra precautions. "I have a daughter that is nine years old so she's not able to get vaccinated yet. She'll wear her mask when approaching neighbors' doors, and will be accompanied by vaccinated, adult family members," says Dr. Katz. Dr. Katz and his daughter will try to only visit neighbors who will be offering candy outdoors in order to maintain social distance.

Another precaution families can take to prepare for the holiday season is getting the flu shot. "We know that both COVID-19 and influenza are dangerous viruses on their own and it's a concern that some children may contract both at the same time, which has the potential to be exponentially worse than either viral infection alone." Dr. Katz notes that even though parents are unable to vaccinate their younger children from COVID-19 right now, they can protect their child from contracting the flu with an influenza vaccine, which is available as either a shot or nasal spray.
Our Dignity Health Medical Group physicians encourage you and your family to safely celebrate all the tricks and treats this Halloween by keeping these precautions in mind. Remember that getting the COVID-19 vaccine is the best thing we can do to keep our unvaccinated loved ones, and vulnerable community members safe. Check back with us on social media for more tips this holiday season!