With increasing concern for COVID-19 variants and cases spiking across the country, it's clear that the pandemic is not over. That's why it is even more important to keep up on your regular check-ups for yourself and your family. Dignity Health Medical Group clinics are open and ready to serve you. If you're headed into one of our clinics for a visit, here are some reminders on the enhanced precautions we're taking to create a safe and welcoming environment for our patients and health care workers.

Before Your Appointment

We are still screening incoming patients for COVID-19 symptoms ahead of appointments. The next time you schedule a doctor's visit with us, you may be asked if you've been experiencing any symptoms, or if you may have been exposed to anyone with COVID-19 recently. This is to protect you and our health care workers from transmission of the virus and to keep our facilities safe.

One of the best ways to protect ourselves and our communities is by getting the COVID-19 vaccine. Those who are vaccinated are 25 times less likely to be hospitalized as a result of COVID-19. With cases of the highly contagious Delta variant increasing in our communities, it is now as important as ever to get the COVID-19 vaccine. Learn more about COVID-19 vaccines here.

At Your Appointment

Many of the safety guidelines and precautions we've become familiar with in the last 18 months remain helpful today. Wear a mask and keep your distance from others when possible, regardless of your vaccination status. Wash or sanitize your hands often, and wipe down surfaces frequently.

When you arrive for your appointment, you may be screened for body temperature and asked a few questions by our health care workers regarding symptoms and potential exposures. At some facilities, you may be asked to wait in your vehicle until your appointment time.

Always comply with posted safety guidelines and ask our health care workers if you have any questions. For a more detailed reminder of Dignity Health's COVID-19 safety procedures, check out this article.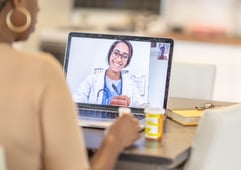 Video Visits Are a Safe, Convenient Option

In-person visits are available and safe, however, video visits are certainly still an option for care. Our facilities offer video visits as an option to anyone who may have COVID-19 or has been exposed to COVID-19 recently. We also offer COVID-19 vaccinations, COVID-19 testing and monoclonal antibody therapy by appointment.

We recommend a video visit if:
In the last 2-5 days, you have been diagnosed with COVID-19, have received a positive COVID-19 test, or you have had close contact with someone diagnosed with COVID-19.
If you have experienced new or worsening symptoms of: fever or chills, headaches or body aches, cough or congestion, runny nose, sore throat, breathing trouble, loss of taste or smell.

If you set up a video visit, your doctor's office may email or text you a link to their telehealth portal; be sure to write down any access codes or passwords needed to log in. Remember to do a "trial run" before your appointment ahead of time to make sure you have all login information needed. If you are having trouble, call your doctor's office for help. Check out more information about video visits with Dignity Health.

Please remember that Dignity Health Medical Group clinics are open for in-person medical care and check-ups, and provide the utmost safety against the spread of COVID-19. For more resources and safety reminders at this phase of the pandemic, visit the CDC website. To schedule an appointment with a Dignity Health provider, click here.